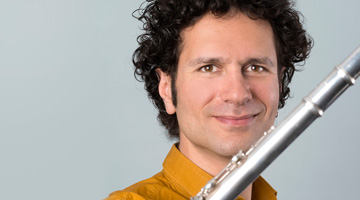 Fascinated by the endless abundance of aesthetics and challenges, the focus of Daniel's work lies in the field of contemporary music. This led him, with his ensembles, hand werk and Das Neue Ensemble, for instance, to several concerts in major festivals such as Acht Brücken – Musik für Köln, Zagreb Biennale and Wittener Tagen für Neue Kammermusik.
He studied flute in the conservatories of Cologne and Freiburg with Hans Martin Mueller and Prof. Robert Aitken. In 2006/2007, he was a member of the International Ensemble Modern Academy, where he received his master's degree in the performing of contemporary music.
Dedicated to both, the contemporary as well as the classical repertoire he is seen as a guest musician with, among others, the Düsseldorf Philharmonic Orchestra and Ensemble musikFabrik as well as with his various chamber music groups.
As a lecturer, he has given workshops at Harvard University, Folkwang University Essen, Yong Siew Toh Conservatory of Music Singapur and others.
"Thoroughly virtuosic"
nmz