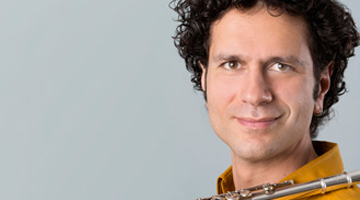 My solo recitals feature composers of all periods with an emphasis on the music of our time. Variation in style, contrast and diversity of the programmes are most important to me, regardless of whether they are exclusively contemporary or not.
Along with piccolo, alto- and bass flute, you will hear and see instruments like the black-grouse pipe. I perform flute pieces that completely avoid the classic sound of the instrument, or include, for example, beatboxing.
I believe that personal contact with the audience is important. I will give a short introduction to both the classics of the flute literature as well as new works. Not in order to patronize the audience in terms of their perception of the music, but rather to provide them a key to a room in which they can look around for themselves, in order to discover something new. Please contact me for more information and programmes.
"The evening's heart and climax was 'Mouth Organ' by Moritz Eggert, in which the soloist has to be drumset, jazz band, techno machine and reciter. Daniel Agi succeeded in all of this."
Badische Zeitung
---