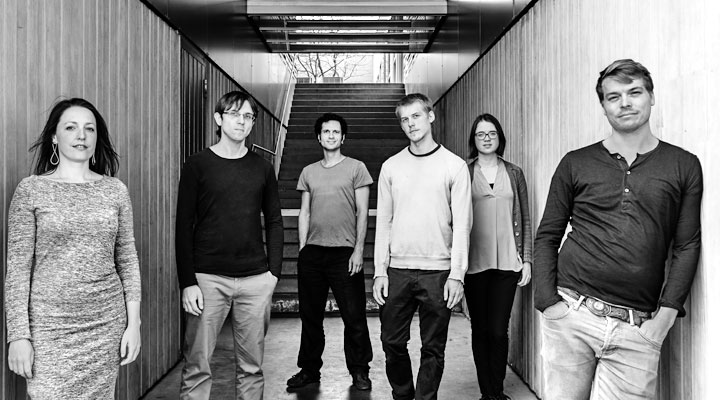 Founded in 2011, the Cologne-based chamber music ensemble defends the values of sustainability and recycling throughout the music world. From the paper mountain of existing works, we salvage the finest materials for refining and reimagining.
The group's highly virtuosic and playing and their unusual programmes enthralled audiences at festivals including the Wittener Tage, Acht Brücken Köln, the Zagreb Biennale, at a residency at Harvard University, on tour in Lebanon and as participants in various concert series in numerous European cities.
"… highly concentrated interpretations…"
Musiktexte
---
Das Neue Ensemble
Daniel Agi – flute
Udo Grimm – clarinet
Christof Hahn – piano
Stephan Meie – percussion and direction
Josje ter Haar – violin
Jessica Kuhn – violoncello
Das Neue Ensemble was founded by its members under the artistic direction of Stephan Meier in Hannover in 1993 and has since then risen to take its rightful place among the leading international contemporary music ensembles. In 2005 it received the 'Inventio-Preis', awarded by the 'Deutsche Musikrat' for innovative programme concepts. Its 'Gelbe Klänge' in Sprengel Museum Hannover brought together music and the visual arts, stellar compositions rang out under the open sky in 'Moonlight Serenade', and 'DaDaBus' traced the life and work of Kurt Schwitters. Its programmes for children captivate new listeners, and since 1996 the 'Mobile Musik' subscription concert series has reached an exceptionally wide audience.
Das Neue Ensemble is supported by its friends association, Musik für heute e.V., which also provides rehearsal rooms and office space in the Alte Grammophonfabrik (old gramophone factory) and develops new audiences with concert introductions and  private 'house concerts'. Its honorary president is Helmut Lachenmann.
---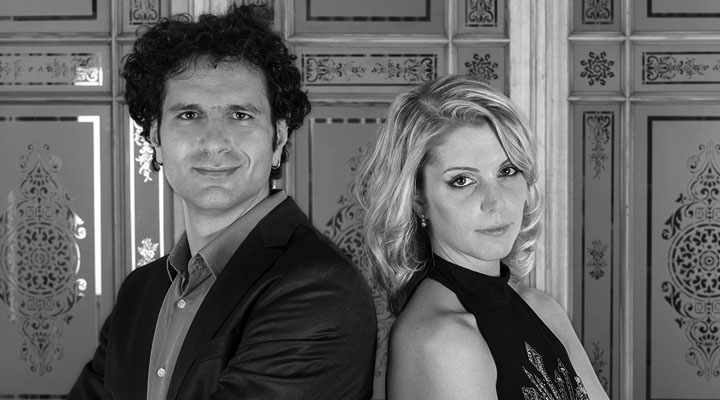 Duo Agile's programmes are shaped by great duo-literature, from the Baroque to early modern. Let yourself be carried away by Daniel Agi and Jamina Gerl's perfomances, both sensitive and full of energy, and join them on a trip through the ages.
"With the greatest ease Daniel Agi and Jamina Gerl performed music from across musical history – Baroque, late Romantic, early modern – and delighted the audience."
General-Anzeiger
"…Mysticism and magic…"
"Daniel Agi and Jamina Gerl enchanted with Greek mythology."
"…an evening of symphonic dimensions…"
Bonner Rundschau