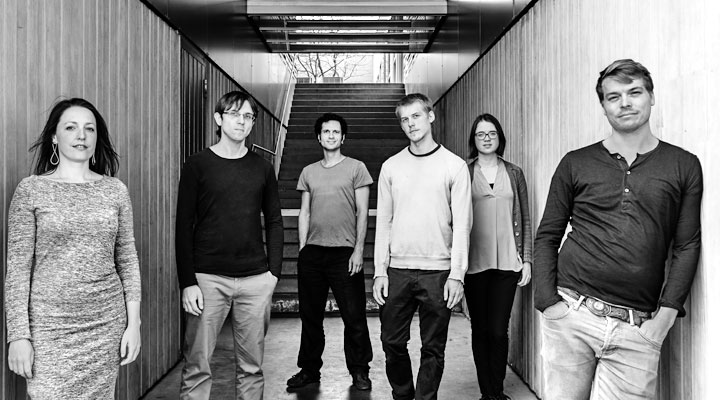 hand werk
Daniel Agi – flute
Heather Roche – clarinet
Stephanie van Backlé – violin
Niklas Seidl – cello
Christoph Stöber – piano
Jens Ruland – percussion
Founded in 2011, the Cologne-based chamber music ensemble defends the values of sustainability and recycling throughout the music world. From the paper mountain of existing works, we salvage the finest materials for refining and reimagining.
The group's highly virtuosic and playing and their unusual programmes enthralled audiences at festivals including the Wittener Tage, Acht Brücken Köln, the Zagreb Biennale, at a residency at Harvard University, on tour in Lebanon and as participants in various concert series in numerous European cities.
"… highly concentrated interpretations…"
Musiktexte
---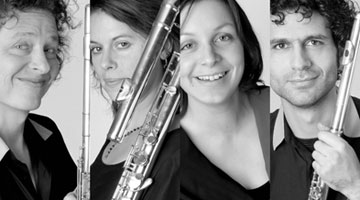 Verquer
Daniel Agi – flutes
Britta Roscher – flutes
Katrin Gerhard – flutes
Max Zelzner – flutes
Experiencing VerQuer means letting yourself be surprised by unconventional and multifaceted flute playing. This is how a modern flute quartet sounds, fearlessly combining jazz, latin, tango, new music and much more, in one concert. Turning like a musical clock or enchanting their audience with tango melodies, VerQuer creates concerts that are rich in variety for both ears and eyes.
Let yourself be thrilled by the quartet's joy in performing and come along with them on a journey off the beaten path.
"…wonder and applause from the audience…"
Süddeutsche Zeitung
"…enormous joy in experimenting and musical playfulness…"
Frankfurter Rundschau
---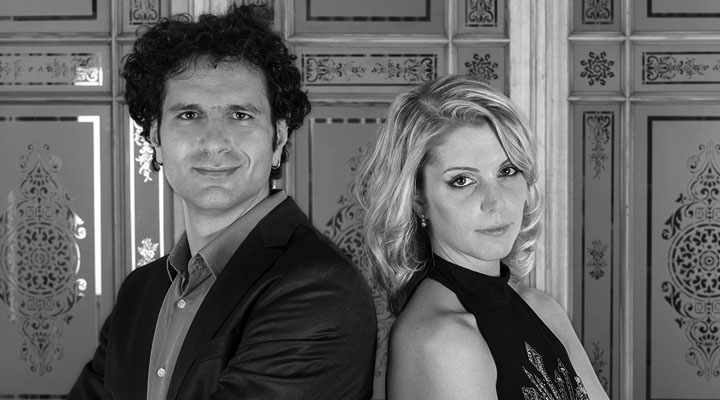 Daniel Agi & Jamina Gerl
Daniel Agi – flute
Jamina Gerl – piano
Duo Agile's programmes are shaped by great duo-literature, from the Baroque to early modern. Let yourself be carried away by Daniel Agi and Jamina Gerl's perfomances, both sensitive and full of energy, and join them on a trip through the ages.
"With the greatest ease Daniel Agi and Jamina Gerl performed music from across musical history – Baroque, late Romantic, early modern – and delighted the audience."
General-Anzeiger

"…Mysticism and magic…"
"Daniel Agi and Jamina Gerl enchanted with Greek mythology."
"…an evening of symphonic dimensions…"
Bonner Rundschau
---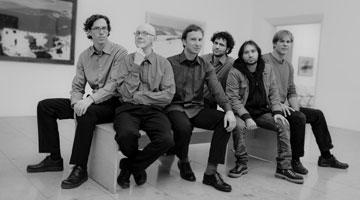 ensemble chronophonie
Daniel Agi – flute
Christian Kemper – oboe
Steve Altoft – trumpet
Lee Ferguson – percussion
Alexander Grebtschenko – composition, electronics
Thomas Wenk – composition, keyboards
ensemble chronophonie was founded in 2001. In 2004 the ensemble was awarded a Grant-In-Aid by the Ernst von Siemens Musikstiftung and a grant by the Kunststiftung Baden-Württemberg. In 2005, ensemble chronophonie was ensemble in residence at the Music Today Festival, Seoul. Concerts have been recorded and broadcast by Deutschlandfunk and the SWR. ensemble chronophonie is supported by the city of Freiburg.
In Freiburg, ensemble chronophonie has a concert series at the Museum for Contemporary Art. The programmes curated for these concerts are for the most part closely linked to the museum's temporary exhibitions.
The ensemble's main focus lies in interdisciplinary work (theatre, sound poetry, visual art) and the performance of music that uses unusual instrumentation such as balloons, tables and typewriters.
"…extremely precious."
SWR2 on the project "unter 4 ohren"

"The ensemble played a fantastic concert working between music and language."
Badische Zeitung

---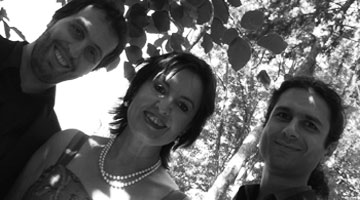 Trio Contrejour
Susanna Frank – mezzo-soprano
Daniel Agi – flute
Hedayet Djeddikar – piano
The harmony of the evening hours, yet also the arcane, the longings that twilight engenders…
Creating touching atmospheres between day and dream, Trio Contrejour expresses our love for the subtle and colourful music of the late French romantic period. Based on this focus, our repertoire expands to include German and Russian composers as well as to early music.
"From the very beginning the trio's high musical level was obvious. Agi's smooth flute sound finely blended with Djeddikar's arpeggio-like sound tapestry on which Frank could find complete expression."
General Anzeiger, Bonn
"Hauntingly beautiful dialogues between flute and mezzo-soprano on the piano's colourful background in George Hüe's Soir Païen."
Badener Tagblatt, Baden Baden